The Exhibition Gallery
This gallery is located on the first floor, on the Statue Square side of the building and opposite the main public entrance to the Court. It was the former location of the library of the old Supreme Court.
The features of the gallery include a gallery running along the upper floor level of the space where bookshelves of law reports recall the former use of the space, a spiral staircase leading to the upper level and a large chandelier.
The Exhibition Gallery provides an insight into the work and history of the Court of Final Appeal, as well as the history of the building. It also serves to inform and educate visitors about the Judiciary and its work.
To this end, there are various static and interactive displays in the gallery which contain videos, photographs and other information on a number of topics including the Judicial Oath, the Opening of the Legal Year, Judicial Attire and the history of this building and other court buildings in Hong Kong. Visitors will also see artifacts on display such as the pre- and post-1997 Maces used on ceremonial occasions and wigs worn by judges and barristers.
An overview of the content of the various panels in the gallery is as follows:
Panel 1: Interactive Quiz Panel
Panel 2: Ceremonial Opening of the Legal Year and replica of post-1997 Ceremonial Mace
Panel 3: Judicial Oath
Panel 4: The Old Supreme Court Building
Panel 5: Other Former and Current Court Buildings
Panel 6: Timeline of the Judiciary
Panel 7: The Work of the Court of Final Appeal and its Judges
Panel 8: Judicial Attire
Panel 9: Exhibits including mace and barrister's wig
Panel 10: Judicial Independence & Exhibits
Panel 11: Work of the Courts – Judgments
Panel 12: Ceremonial Opening of the Court of Final Appeal Building at 8 Jackson Road

Panel 13: Exhibits of Judicial Attire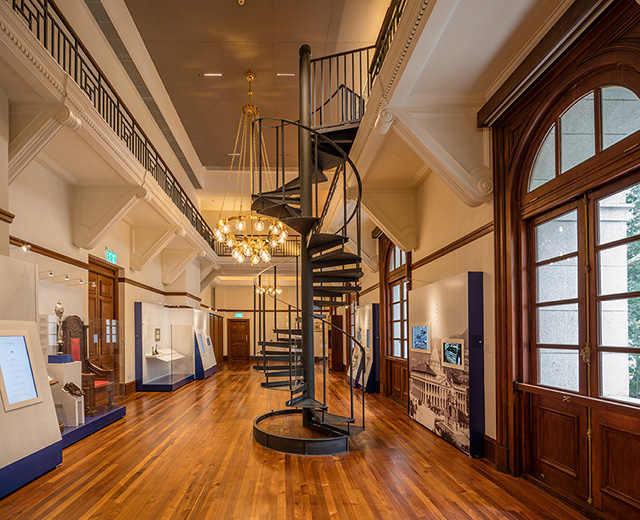 (Exhibition Gallery)
The Architectural Heritage Gallery
This gallery is located in the basement of the building and is located in a former plant and machinery room.
It consists of information about architectural aspects of the building and contains displays and models demonstrating the nature and scope of the restoration work undertaken by the Architectural Services Department (ArchSD) when the building was returned to the Judiciary after its use as the Legislative Council. It is hoped that this significant example of heritage interpretation will provide visitors with a rich and interesting archive of architectural detail about the building.
On display in the Architectural Heritage Gallery are models of the Statue of Themis, the pediment of the Building and the Tudor Crown from the top of the dome. Also on display are a three-dimensional trans-sectional model of the Supreme Court at the time of its opening in 1912 and a model showing the layout of Statue Square in the 1930s.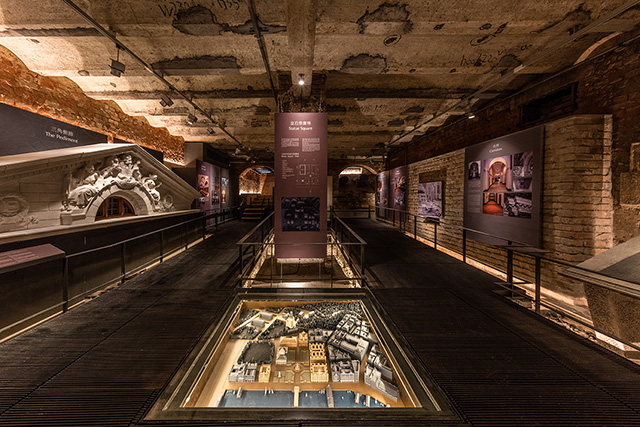 (Architectural Heritage Gallery)